FMS Tech Introduces FMS Smart Mobility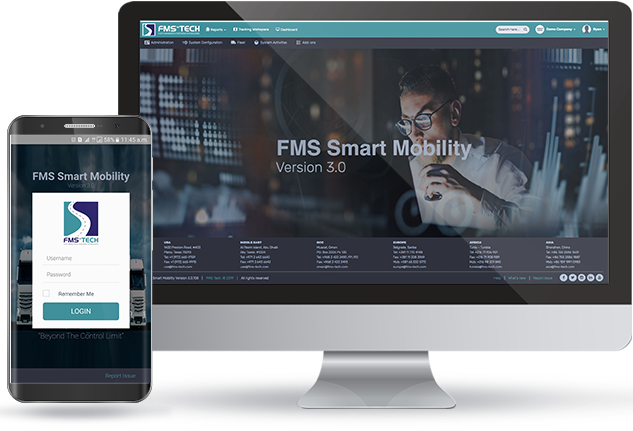 As an initiative to provide better services to its customers and to further develop the business while moving along the latest advancements in technology, FMS Tech introduced the FMS Smart Mobility.
FMS Smart Mobility is the all new platform with enhanced theme and more useful features that fleet managers can use to monitor their fleets and its drivers.
This platform is specially designed to meet the needs of its users. With its new features, monitoring the fleets has never been this easy and efficient. Now with a more interactive, easy-to-use, and a customizable interface, FMS Smart Mobility can provide information in a few clicks.
With the advancement in technology and the constant need for more efficient ways of doing things, FMS Tech acknowledges the needs of its customers of having a reliable, efficient, and a more up-to-date software to manage their fleets.
The new features of FMS Smart Mobility allows a more personalized look to the platform where fleet managers can assign the theme and even upload their own personal photo in their profile.
These new features include:
Theme Options
With light and dark options, users can select the theme they want for their profile, whichever they prefer and will be easy on their eyes.
Richer Content
Users can now have a better overview over their fleet's status starting from Asset & Device pages.
Fully Responsive Design
Have the same experience using any device you have. The system will just adapt to show you the most possible content using the available view.
Smart Search
The smart box is another efficient additional feature. It would allow the user to search for a driver, asset, or report, and they will instantly get the most updated information accordingly.
Tire Pressure Monitoring System
Monitor the tire pressure of your fleet remotely. The tire pressure monitoring system allows fleet managers to see and check the status of the tires by generating a report showing the tire temperature and pressure.
With these new features, customers can truly experience convenient fleet management at their fingertips.
Want to know more about the new FMS Smart Mobility? Contact your local FMS-Tech dealer, or email us at info@fms-tech.com.